The different types of chocolates
Dark Chocolate
Dark chocolate, also known as dark chocolate or bittersweet chocolate is the chocolate itself. This mixture of cocoa and sugar. To be called "chocolate" must contain at least 34% cocoa. Below, we speak of "Chocolate Candy". The need for sugar depends on the bitterness of the cocoa variety used. He knows a revival of consumption since the early 90s although there is less consumed than milk chocolate.
Unsweetened chocolate
Unsweetened chocolate is made from pure cocoa without added sugar.
Chocolate Milk
Milk chocolate is chocolate that is obtained by adding powdered milk or condensed milk. It contains less than 40% cocoa. U.S. law requires a minimum concentration of 10% cocoa.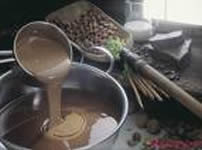 The EU regulations state a minimum of 25% cocoa. Some luxury brands such as Michel Cluizel chocolates offer milk to 45%. It is also calories than dark chocolate (less fat but more sugar). For many years there has been much appreciated and consumed.
White Chocolate
White chocolate is a preparation of cocoa butter, added sugar, milk and flavoring, without any solid component of cocoa. It is mainly used in confectionery to play on the contrast of colors.
Chocolate Cover
The couverture chocolate is very good which is used by chocolatiers and pastry chefs as raw material. It may be dark or milk but it contains at least 32% cocoa butter which makes it very fluid to achieve a coating thinner than a typical coating.
Cocoa
Cocoa is used in various forms in Europe: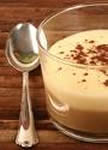 chocolate and cocoa drink water or milk and cocoa, which is usually added something sweet.
plates, Pistols or dark chocolate confectionery: (cocoa powder, cocoa butter, sugar often), in which the soy lecithin is added in industrial production, mainly produced in Switzerland and France.
plates of sweets or milk chocolate (cocoa powder, cocoa butter, milk, sugar), which lecithin or soy lecithin most recent rape was added in industrial production.
plates or chocolate confectionery white (very little cocoa, cocoa butter, lots of sugar and milk)
Ganache: A mixture of cocoa and cream used in pastrie
The country gourmet
In Europe, two major countries most famous for chocolate are:
Switzerland in particular, milk chocolates and dark chocolates
Belgium in particular, dark chocolates and pralines.
Since 2003, European legislation has aligned with the guidelines of the National Institute of Appellations of Origin (INAO) governing wine appellations. The following classification describes the quality chocolates:
chocolates of origin must be produced from a cocoa from one state or country.
chocolates from raw cocoa come from a geographic area identified even a single plantation.
chocolates characterize the major raw cocoa chocolate which has a special character uniquely identifiable justifying a high price.
The World Trade Organization Cocoa (ICCO International Cocoa Organization) has also put in place since 1994 a list of countries producing cocoa and cocoa for flavor remarkable for their flavor and color.